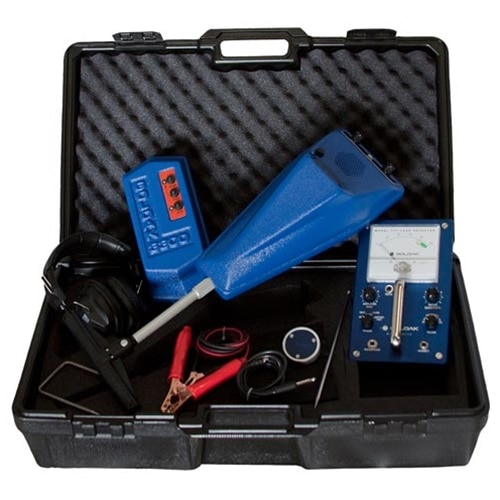 Did you know that about 10% of American homes have plumbing leaks that waste almost 100 gallons of water each day? If you suspect your house might fall into this category, hiring a plumber ASAP would be a great idea.
You can tell whether or not your plumbing system may have a leak by using your water meter. Look at it when all the plumbing fixtures in your home are turned off. If it's still spinning, this may be a surefire sign of a leak.
One of your local leak detection services will be able to help you deal with it. Here are five benefits of calling on a leak detection service for assistance.
1. Identifies the Location of a Leak
There are some instances in which it'll be easy for you to identify the location of a leak. If one of the plumbing pipes in your basement is leaking, you'll be able to see it for yourself.
But if you have a leak, say, behind a wall or above a ceiling, it'll be harder to find. Leak detection services can step up and identify exactly where a leak is taking place.
2. Determines the Severity of a Leak
In addition to identifying where a leak is located, a leak detection service will also figure out how severe it is. They should be able to give you a general idea of how much water is leaking and what kind of damage it's doing.
You'll want to fix plumbing problems like leaks ASAP no matter what. But hiring a residential plumber will let you know if you have a true emergency situation on your hands. It'll need to be dealt with immediately.
3. Finds a Way to Fix a Leak
It's one thing to identify the source of a plumbing leak. It's another to carry out the necessary plumbing to fix it.
But the best leak detection services will know how to do it. Once plumbing detection has been done and they've found a leak, they can get to work on making the right repairs to remedy the situation.
4. Stops a Leak From Coming Back
The last thing you want to do is fix a leak only to have it pop back up again within a few weeks. A leak detection service can stop this from happening.
They'll make the right repairs to your plumbing system to stop a leak in its tracks. You won't have to worry about circling back to fix a leak again in the near future.
5. Looks for Other Potential Plumbing Problems
While a leak detection service is evaluating a leak and fixing it, they'll also keep an eye out for any other common plumbing problems they might see. They'll let you know about them and ask if you'd like to have them fixed, too.
This is just one more great reason to bring a plumber on board and take advantage of their leak detection services.
Choose Us Over the Rest of the Leak Detection Services
There won't be any shortage of options when you're searching for leak detection services. So many plumbing companies can supply you with leak detection when you need it.
Drain Masters Plumbing Company is the leak detection service you can count on for help. Contact us today to schedule an appointment in your San Diego, CA home.