Drain Cleaning and Plumbing Services Poway, California
When you need emergency drain cleaning or plumbing services in Poway, California Drain Masters is ready 24/7.  We're the area's plumbing and drain cleaning pros.  As your full-service local plumber, we'll also take care of your home or business leak detection, garbage disposal repair and installation, sewer cleaning, slab leak repair, and water heater repair and installation needs.
Drain Masters Plumbing Company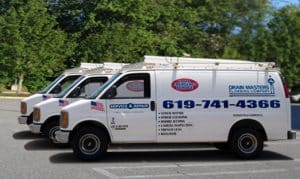 Family owned and operated we've been the local plumber for Poway area homes and businesses for over 20 years. You can count on us for efficient, quality work at economical rates.  With highly trained technicians and properly licensed plumbing specialists, we can handle it all.  Our company is a licensed California plumbing contractor, bonded, and with comprehensive and liability insurance.  And you'll have the confidence of our Make It Right guarantee.
Professional Drain & Sewer Cleaning
Pretty much everyone experiences a slow running or backed up drain sooner or later.  Our drain cleaning specialists will clear out accumulated buildups and other blockages to restore free-flowing sinks, tubs, showers, and floor drains.  We also provide storm drain services for commercial facilities.
Liquid drain cleaners are OK, sometimes clearing bath and laundry drains even without your using a plunger.  But long-term success with a kitchen sink is far less likely, as grease solidifies and clings to the insides of pipes.  Even so never escalate to lye crystal or acid-based drain cleaning products as these do indeed damage pipes, plastic as well as metal.
When our courteous and professional technician arrives they'll remove any standing water, open up the P-trap, and thoroughly snake out the line.  If there's a grease problem that's likely to cause another problem they'll let you know.  And they won't leave a mess behind for you to clean up.
Sewer Cleaning: All the drains — showers, tubs, sinks, toilets, and floor drains — join up to a single line going out to the Poway sewer system.  If you have a toilet backup or multiple drain problems you probably need sewer cleaning for that "main" line.  It could be caused by an accumulation of grease and grime, a foreign object that got flushed, a tree root intrusion, or pipe damage.  We'll use the latest in snake cameras to take a look and find out exactly what the problem is before proceeding with the best approach for your situation.  Ideally, we'll use your clean-out access port.  If there isn't one we can gain access by removing a toilet, or for a better solution going forward install a clean out.
Poway's Most Recommended Plumbing & Drain Services. Schedule Today! (858) 815-9202
Hydro Jetting
If you've been plagued by kitchen backups that keep coming back, there's probably more grease build up than even expert snaking can remove.  For those situations, our hydro-jetting equipment uses jets of high-pressure water for absolutely thorough drain and sewer cleaning.  With the insides of pipes as clean as when they were new, the same problems won't be coming back anytime soon.  Our sewer hydro jetting service can even cut through 90% of tree roots.
Leak Detection
Even a small water leak often leads to mold and progressive water damage.  So if you have suspicious but can track down a problem, a visit from our leak detection experts is a good investment.  They'll start with a free quick detection and assessment of severity, and can proceed with the latest in electronic instruments.  Whether plumbing, roof, window, balcony, planter, or fire sprinklers they'll non-destructively pinpoint the location where our plumbers can go straight to work.
Slab Leak Repair
Most Poway homes and businesses have concrete slab-on-grade construction.  You're less likely to notice a leak under a concrete floor, but it can lead to very serious structural damage as it slowly but surely undermines the foundation.  Pulling up flooring and hacking through concrete isn't a viable option anymore.  After taking a look at the general condition of your pipes, our slab leak detection specialists using the latest instruments can locate the problem to within a couple of feet without disturbing anything.
With that knowledge, we'll give you one or more options for your specific slab leak repair.  That may include jack-hammering through for a spot repair, but rerouting pipes outside the slab are less disruptive and allow easy access in the future.  Pipelining, installing an epoxy liner inside existing pipes, is often another possibility.
Water Heater Installation and Repair
Whether you've noticed strange sounds, leaks, off-color or smelly water, and of course if you have little or no hot water our expert troubleshooters save time and money on water heater repairs.  And whether gas or electric, with our fully-stocked trucks repairs, are usually completed on the spot.
Hot water heaters typically last 8 to 15 years depending on the model and maintenance.  We've been around longer than most water heaters!  If yours is approaching it's warranty expiration date or has needed repairs before then, it's probably more economical in the long run to go for a replacement water heater installation.  We install, maintain, repair major brands including Bradford White, GE, and Reliance, and will be happy to advise you on the latest high-performance models and technologies.