24/7 Faucet Repair and Replacement.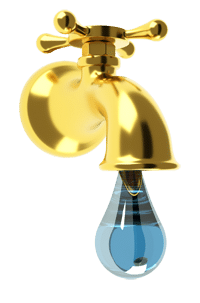 Drain masters plumbing can repair and replace any faucet in your home or business 24 hours a day 7 days a week. We service and install tub, shower, lavatory, kitchen, laundry faucets and more. Our trucks are fully equipped to handle any faucet repair or new faucet installation. We service all San Diego County with fast response time including evenings and weekends.
There are a number of different types of faucets, each with its unique advantages and disadvantages. If your faucet is a little bit older, compression type of faucet repairs might be required frequently. These are among the oldest style of faucets that are still available. Compression faucets have separate hot and cold handles and they require to put pressure on the handle to cut off the water flow.
Compression faucets undergo much more upkeep and faucet repair than various other types because of their use of washers to seal off the flow of water. These washers are typically made of rubber, and for that reason wear out with a lot use. Once worn out, you'll start to notice a persistent drip of water from the faucet head. The alternative to compression faucets are the washer-less faucet designs: ball, disc, or cartridge. Each type is distinct, however when it comes to cutting off water flow, none of them depend on washers that can wear out. Next time you're facing faucet repair, consider changing the style and saving yourself the need to repair again soon.
Got a leaky or dripping kitchen Faucet?
We will be glad to discuss your replacement options with you- from ledge mounted faucets to concealed faucets under the sink, we can install and replace it for you.
A leaky faucet could be as irritating as it is expensive, pricey to fix or replace and expensive if it leaks too much water due to a high water bill. You will be amazed to see how many gallons of water can be wasted by a leaky faucet or a dripping faucet. Try our link below to calculate the savings.
Faucet Replacement
Faucet styles have advanced over the past several years. Replacing your faucet can give a stunning make over to your bathroom sanctuary. Gone are the days when you basically needed to choose from brass or chrome, matte or shiny finish and a minimal number of designs. Today there's so much more to explore:
Style
There is many styles to choose from classic faucets, contemporary or modern, rustic, even LED or colored faucets.
Finish
Faucets come in much more finishes than you might envision: polished chrome, polished nickel, matte etc. Consider how the faucet will display against the counter or walls in your bathroom.
Warranty
All of the major faucet manufacturers have warranty programs for their faucets. Delta, KOHLER, Pfister, Amercian Standard, etc.
Eco-Friendly
You can save the planet in-style. Most manufacturers developed beautiful styles of faucets that are 100% eco-friendly. An eco-friendly faucet will help lower your water bill while helping the environment. It is definitely a win win situation. [clear]