South/East
(619) 346- 4212
San Diego
(858) 815- 9202
North County
(760) 990- 7929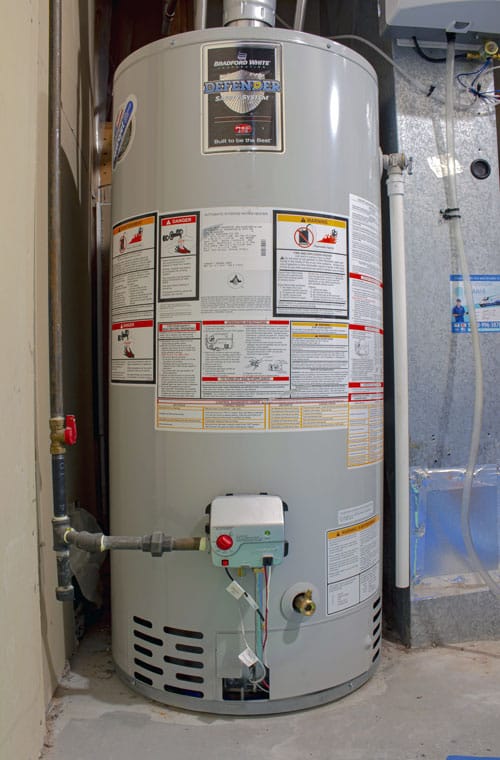 24/7 Water Heater Repair and Replacement
Does your hot water heater need repair? Average water heater lasts between 10-15 years. Maintaining your investment by a professional is extremely important. Internal parts corrode and the hot water heater's efficiency will decrease.
Servicing all of San Diego County including South and North County our skilled service technicians with fully stocked trucks can troubleshoot, and repair your water heater problems on the spot. We provide 24/7 service with no weekend or overtime charges. Our 20 years of experience and customer satisfaction guarantee sets us apart from competition. Licensed, Uniformed, Family Owned and Operated Drain Masters Plumbing takes pride in customer service and satisfaction. Call us 24/7 for all your water heater questions and problems.
We Service, Install and Repair all Major Water Heater Brands like:

Common Water Heater Problems
Strange Sounds
Banging, gurgling, knocking sounds coming from your pipes mean they are being put in danger to stresses they were not intended to take and will develop leaks much faster. Banging sounds from inside your water heater are likely large mineral deposits breaking off and settling to the bottom of the tank. This means your water is too hard and you are losing a lot of money to inefficiency.
The sound you REALLY DO NOT want be hearing though, is bubbling or gurgling. If you hear these sounds, shut down your water heater immediately, get out of the room and call us. Why? Because those sounds mean the water inside your heater is boiling. Your water heater has become a pressure cooker, something it is not designed to be. You are in danger of the appliance literally exploding with enough force to seriously injure or kill anyone inside as well as to destroy your home and its possessions.
Leaking
Hot water tank leaking is caused by several problems. Leaks can come from worn gaskets or pipe fittings, or from the tank itself. It could be coming from the TPR valve. The temperature-pressure relief is a crucial safety component. A faulty valve will allow enough pressure to build up to cause your tank to burst!
A rusty tank is the last indicator that it is time to replace your water heater. We partner with many reputable water heater providers such as: Bradford White and AO Smith please call us for best deals and installation all types of repairs, tankless water heaters, electric hot water heaters and gas hot water heaters.
No Hot Water
Do you have no hot water at all?
The answers vary with the type of water heater.
With gas water heaters, check the pilot light. If it's out, re-light only carefully following the instructions listed on the water heater tank. What if the pilot will light but goes out quickly? There might be a problem with the thermocouple or gas control valve. If pilot will not light, there may be a problem with the gas supply-contact your utility provider.
If the circuit breaker hasn't tripped, it could be the ECO switch. Lastly, heating element may have failed or the water heater's thermostat.
Drain Masters Plumbing Technicians are licensed plumbers. Don't attempt to repair the gas line and fittings or electrical elements yourself!
Rusty, Smelly Water
Rusty water indicates a corroded hot water tank. This is inevitable without proper maintenance and usually is a decaying anode rod. The rod protects the tank walls and can create hydrogen gas which multiples bacteria in the sediment. We will evaluate the corrosion and either replace the rod and flush out the sediment, giving you a few more years on your appliance or replace the unit. SOUTHERN CALIFORNIA GAS COMPANY as well as Edison now offers various rebates on certain units. If a new hot water unit is needed- our staff can guide you through this process to help save you even more money!
Not enough hot water.
Hot water heater thermostat could be damaged and need to be replaced.
The hot water tanks arch enemy- sediment could have invaded the bottom of your tank, reducing the amount of available hot water.
A cracked or broken dip tube causes cold water to leak into hot wate
Water Heater Discount Coupons For San Diego County Residents & Businesses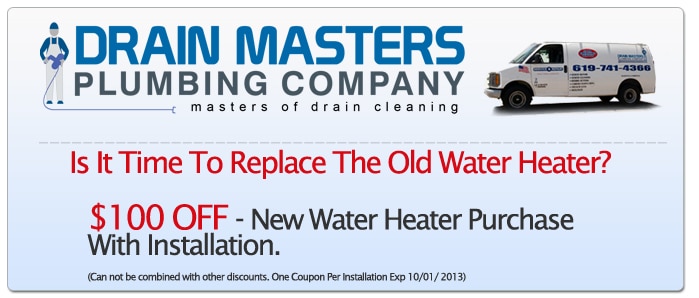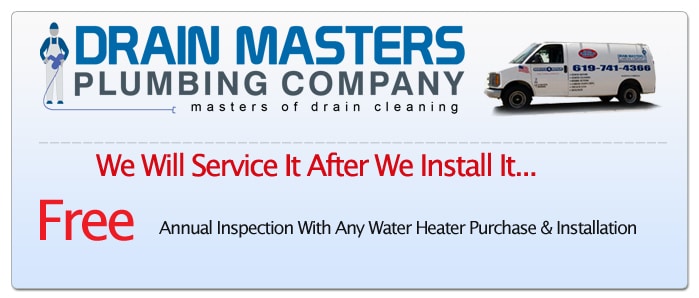 Save Money & Energy With Rebates & Coupons
Limited time only April 1, 2012 – December 31, 2012 Southern California Gas Company offers a rebate up to $400 on ENERGY STAR-qualified tankless water heaters. $400 rebate for models with an Energy Factor of 0.90 or higher, $300 rebate for models that meet a minimum Energy Factor of 0.82, Must be replacing a conventional tank-type water heater Details
Energy Star Rebate Qualified Water Heaters

  Click On The Energy Star Icon To Find out the latest tax credits on qualified water heaters.