24/7 La Jolla Service (858) 815- 9202
La Jolla Plumbing, Drain and Water Heater Service.
The Drain Masters plumbers in La Jolla, CA provide complete residential and commercial plumbing repair, drain cleaning services and water heater installation 24 hours a day. We can fix all plumbing problems including toilet repair, leaky shower, clogged drain and more. Our emergency plumbing and drain services are available 24 hours a day 7 days a week at no extra charge. Our uniformed, licensed technicians are masters at their craft and will answer to all your plumbing questions. We use the latest technology in drain and sewer cleaning including MaxLiner System TM SERVICES, DrainVision™ Sewer Camera.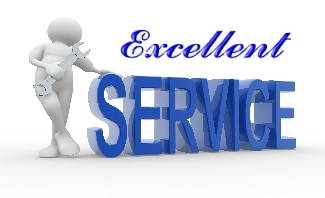 Our customers will receive plumbing and drain cleaning services and products that meet or exceed their expectations or we will make it right.
We are a full service and repair plumbing company that prides itself on quality workmanship. We are committed to assist our customers at their home or business and to setting the standard for excellence in our work and customer satisfaction.
Our La Jolla, CA Residential Plumbing Services include:
Garbage Disposals Repair/Replace & Services , Sewer Repair, Drain Cleaning, Leak Detection, Toilets, Faucets, Water Heaters, Sewer Inspection, Trenchless Pipe
Our La Jolla, CA Commercial Plumbing Services Include:
Sewer Repair, Water Heaters, MaxLiner System TM SERVICES, Sewer Inspection, Trenchless Pipe
Plumbing and Drain Discount Coupons For La Jolla, CA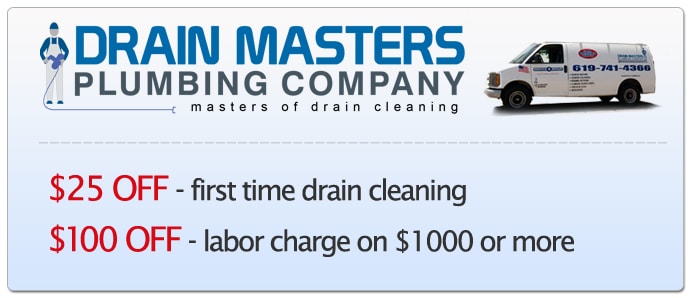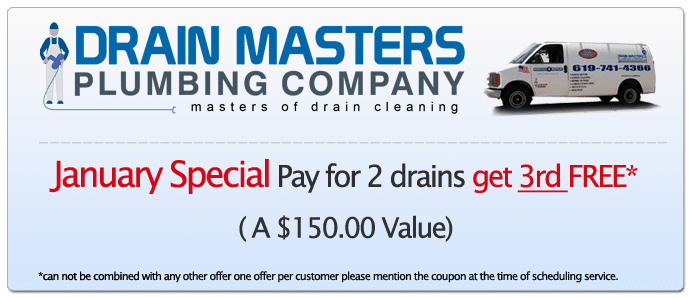 Drain Masters Plumbing La Jolla, CA Service Area