Leak Detection,  Slab Leak Repair San Diego, CA
Our San Diego Master Plumbers are experts at finding leaks in walls, ceilings and in slabs. Using the latest leak detection equipment we will locate all the leaks in your home or business without damaging your property.
We use goldak electronic leak detection for locating leaks on underground water lines. Water leaks can result in mold, water damage, structural damage and odors. High utility bills are usually a good indication that you might have an underground leak. It is imperative to have a professional, licensed leak detection specialist to assess the damage and locate the leak so it does not end up in costly repairs.
Slab leaks can surface from any imperfection in the concrete foundation. More houses nowadays are built on concrete slabs and water can leak under the slab without anybody noticing for a long time. If your water bill is unusual high even though and you didn't change your water usage, it might be an indication that you have a leak somewhere. If you see water leaking in an area, the leakage might not be right there. Water travels the path of least resistance. That is why it is vital to have a professional plumbing technician with all the right equipment to come out and locate the leak as soon as possible to avoid further damage.
With our special electronic leak detection equipment, we are able to locate those leaks and repair the broken or damaged pipes. We can also do reroutes to save you money and damage to your property. Drain Masters Plumbing have excellent leak detection and slab leak repair references both from residential and commercial property owners.
If you think you might have a slab leak, please call our qualified technicians right away for a free in home estimate. The longer you wait, the worse it may get. We specialize in electronic leak detection and have many service experts who have done hundreds of slab leaks.
Most Common Leaks:
Plumbing Leaks

Slab Leaks

Roof Leaks

Window Leaks

Balcony Leaks

Planter Leaks

Fire Sprinkler Leaks
You might have a slab leak if
The toilet starts flushing when nobody is using it.

Water Damage on your walls, carpet or ceiling

Higher than usual water bill.

Hot spots on the floor or walls

Weak water pressure

Wet spots in the yard

Cracks in walls or floors
Drain Masters Plumbing Slab Leak Reroute Review From Yelp Posted 03/05/2013
As my last plumber up and moved to Montana I needed to find a new one to unclog a shower drain..  I looked in the BBB phone book and picked Drain Masters who came in January and did a fine job with that.  When I recently heard a leak in the other bathroom, I knew whom to call.  Drain Masters did a reroute of the hot water pipe which was leaking in the slab.  Job was done quickly and professionally.  I am totally satisfied and would highly recommend Zeke and his crew if you have plumbing problems.  Mary W. San Diego, California
Click Here To See It on YELP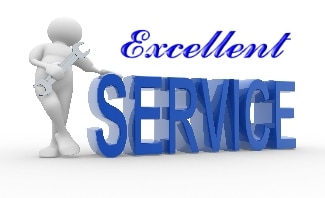 Drain Masters Plumbing Service Satisfaction Guarantee
Our customers will receive plumbing and drain cleaning services and products that meet or exceed their expectations or we will make it right.We are a full service and repair plumbing company that prides itself on quality workmanship. We are committed to assist our customers at their home or business and to setting the standard for excellence in our work and customer satisfaction.
San Diego County Leak Detection and Repair Discount Coupon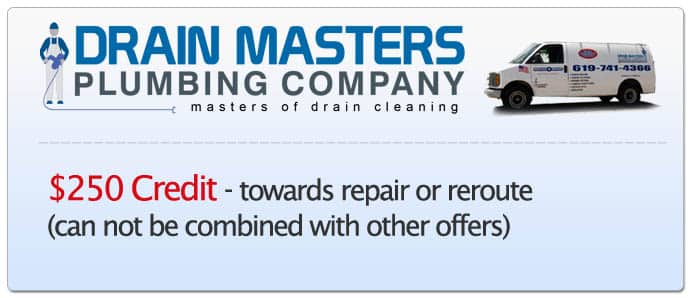 Please take a moment to browse our reviews and you will be assured of our professional, honest and friendly service.